Retrofit Emission Control Device For DG,
Capacity 200 kVA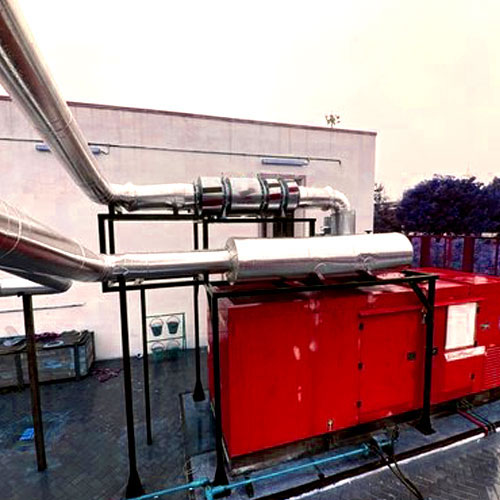 Device
DG Set RECD
Country of origin
India
Product name
Eo 200 RECD
Voltage
220 V
Frequency
50 Hz
Motor type
CPCB approved
Phase
3 phase
Capacity
200 kVA
Automation grade
1001-2000
Type
Automatic
Delivery
By truck as product weight is more than 2000 kg.
Product life
12+ years
Production per month
200+
Min. order quantity
1
Condition
New
NGT & CPCB lab-approved emission control device for 200 kVA generator, buy best in quality RECD device for industrial Genset. We are the authorized distributor supplier & manufacturer of emission control devices for Genset in India. We design & manufacture RECD for generators under the guidance of a qualified team of engineers to make them more efficient & best for all job needs. All DG Set pollution control devices follow the standard guideline set by NGT & CPCB.
The pollution control system for generators is the most useful device to control the emission level of diesel generators without affecting their performance. In line with the guideline of NGT, CPCB, and EPCA, EO Energy designed the world's best emission control device for the 200 kVA DG Set. This RECD is fitted with the diesel Genset exhaust system & converts the harmful gases & other particles into something useful. Also, with the use of RECD for 200 kVA generators your organization can be able to comply with the guideline issued by NGT regarding the use of diesel generators in Delhi NCR. The device offers no disruption in work and will help the continuous use of 200 kVA diesel generators in the best manner.
We know, DG Set exhaust badly affect the health of human, it is also the 4th leading cause of unnatural death. A few of the major health diseases due to the bad exhaust system of diesel generators,
Asthma

Lung cancer

Heart disease

Chronic obstructive pulmonary disease

Cardiovascular diseases including stroke
A few of the best features of retrofit emission control devices:
Reduce Genset emission up to 90%

Make your diesel generator more efficient & best for the business

Strong & long-lasting performance

Made with stainless steel

All weatherproof

Easy to maintain
Its design keeps in mind to design fire protection system & provides solutions for every such need to prevent fire disasters. Design is complying with the local civil defense standards. We follow a team of experts and experienced employees working with full of interest and completing projects on estimated time. We feel proud to control air pollution by helping and providing emission control devices at an affordable price. Eo energy supplies their order on time and has the best delivery service all over India.