A clean germs & virus free work environment provide complete protection against the spreading of germs & disease. With the latest impact of coronavirus(Covid-19), the commercial spray service offering powerful disinfecting in office space.
EO Energy commercial cleaning company offering a powerful & latest technique of commercial disinfection service. In this uncertain & worst situation, we provide prolonged antibacterial spraying service at client location.
Our best in class commercial sanitizer spray kills & eliminates all the harmful viruses such as H1N1, Hep A, B, and C, Sars, Rotavirus, Norovirus, etc. 
Our commercial disinfectant spray is non-corrosive and safe to use in sensitive locations.
Before doing the antibacterial spray at the office or commercial space we cover all the objects & everything which is present in commercial space. But after sanitizing the floor, wall, doors, window, and other frequently touched objectives, we gently clean & disinfect essential items.
Finding a commercial spray service through EO Energy offering a complete solution of pest control including harmful viruses. Our team of technicians & commercial sanitation workers do the complete inspection of the job area & provide the service according to the needs. Due to our easy availability, the client can also tell us the area of problem and we do the proper solution.
Apart from that, we also do the sanitation treatment of specific items included office equipment disinfection. Also, we follow standard procedures with international norms of commercial sanitization & disinfection.
Only after the commercial spray plan & service meets with the client requirement, we discuss the price.
Reason to hire commercial spray service
As all, we know that today we are facing the worst widespread pandemic situation due to Coronavirus (Covid-19). So the many facilities providing the best disinfectant commercial spray service to make 100% clean & germ-free commercial environment.
Apart from that, the EO Energy sanitation service provider offers the best in class commercial disinfection service to clean the work environment.
Also, the commercial sanitization spray not only kill harmful virus or germs but they also reduce the priority of infection in human. 
Due to the best quality disinfection for business, we specialize in commercial spray service for all facilities. Our professional sanitation worker uses a very effective method to clean a building, office space, and complete commercial area. Also, our sanitizer spray is able to kill more than 50 viruses instantly.
Apart from that, there are other numbers of features of commercial sanitation spray. Some of them are,
Provide a healthy and clean work environment which increases the productivity of a business.
Clean & disinfect all the frequently touched things in the office space such as door, window, knobs, desk, chair, work equipment, etc.
During the office cleaning & sanitation, we free up more storage area. That means we clean & or throw out the things which are no more useful.
Apart from the disinfection of the workspace, we clean the office conference area, meeting area, and common restroom.
Also, it gives professional & positive appearance to your client when they visit your commercial office space.
Reduce the chances of germs spreading in the commercial environment.
Commercial spray safety, we follow
We follow all the major safety concerns during commercial disinfecting solutions. Also, our natural sanitation chemical reduces the health risk as well as good for the environment. Our germs killing chemicals is also safe when it comes to contact with the plant or food.
We are NSF-certified and we understand how to clean commercial space without interrupting your work. Also, due to the non-corrosive feature of our sanitizer, it will not destroy office equipment. Our commercial spray consists of light mist, so it will not damage building material but strongly kill all harmful numerous viruses.
Apart from this, we are also committed to the care & wellness of employees, business owners, clients, and customers. We also make a protective layer in the office environment to make them free from viruses, bacteria, and mold.
Our disinfecting spray service is used to clean & sanitize commercial & business areas according to the EPA standard. Our best quality antibacterial pesticide destroys or inactive microorganisms that are present everywhere.
The disinfection spray service we provide is mainly working in two categories. One is hospital cleaning service and other commercial cleaning services such as,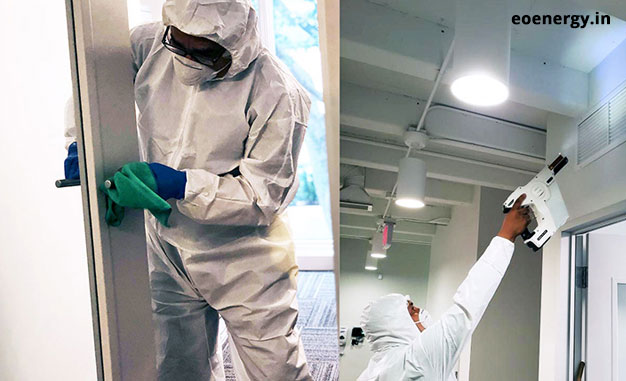 Restaurant cleaning service

Hotel cleaning service

Office cleaning service

Commercial building cleaning service

Shopping mall disinfection service

Small shop cleaning service
The disinfecting & cleaning service provided by us is completely depending on the facility, tools, chemical with deep cleaning disinfectant fogging, and electrostatic sprayer dispersal.
Why choose our commercial spray service
EO Energy deep cleaning service offering the best in class sanitation spray to disinfect harmful germs in your workplace. We are one of the trusted names in commercial spray service in Delhi NCR. Our Disinfection service is completely client-oriented & we modify our cleaning services based on the client's needs.
Apart from that, there are other best benefits of our best disinfectant spray service for commercial requirement such as,
Low in price

The low cost of commercial sanitation is one of the best features of our service. That means we offer the best affordable commercial spray service price in India. Also, the easy availability make us a prime choice for cleaning in all sectors. Due to the low price feature, we are prime choice for our precious clients.
Long durability

The corporate cleaning services offered by us are present with the feature of long durability. That means our sanitation spray service for commercial needs not only provide instant output but also effective service to make a commercial environment clean for a long duration.
Best in quality service

EO Energy commercial spray service provides quality cleaning during the sanitation or disinfection. Apart from the regular cleaning, we provide additional commercial service with quality cleanings such as deep rug and upholstery cleaning to maintain clean air and spotless workplace.
More storage with deep cleaning

The team of EO Energy professional cleaning service arrives with all equipment of commercial cleaning & sanitation. Also, we clean out the storage area to place more things in low space.  Apart from them, we do all the treatment & polish after completing the cleaning.
These are a few of the best quality features provides by EO Energy commercial spray services. Also, the customer-oriented services with best in quality commercial sanitation chemical offering long-duration clean & germs free environment in your workplace.
To get more information or want to hire commercial cleaning or sanitation service, you can call or contact us. We ready to serve 24*7 service according to client needs.
So, What are you waiting for?
Get Latest Price for Top Diesel Generator Sets
Contact us through this form!