Commercial & Automatic Hand Sanitizer Dispenser Stand
With an outstanding range of sanitizer chemical & sanitation service, EO Energy is the largest manufacturer & wholesale trader of sanitizer stand. We design & manufacture the latest quality hand sanitizer dispenser to wash hands without touching it.
We are leading enterprises engaged in manufacturing and supply of a wide range of automatic sanitizer stand for sale. Also, Our specialist team of technicians design & manufacture these products as per requirement & features specified by the customer. Apart from the various range of sanitation products & chemicals along with best in quality home & office cleaning service, our hand sanitizer dispenser stands are more demanding in residential & commercial space.
Also, we offer a low & affordable price of hand sanitizer stand as compare to other distributors.
Shop for Hand Sanitizer Stand
EO Energy sanitation & disinfection service offering various range of hand sanitizer floor stand for sale. This automatic hand sanitizer dispenser stands available with a number of features & advantages, which make them best for their use. Such as hand sanitation stand with the pole, digital hand sanitizer dispenser, disinfection spray guns, and foot-operated hand sanitation stand are some of the best cleaning products we sell.
Here some of the best sanitizer holders stand to offer by EO Energy,
Foot press sanitizer stand
Product Specification
Brand
EO Energy
Mounting type
Foot press
Material
Steel
Type
Manual
Chemical Capacity
1 ltr.
PVC Foot-operated hand sanitizer stand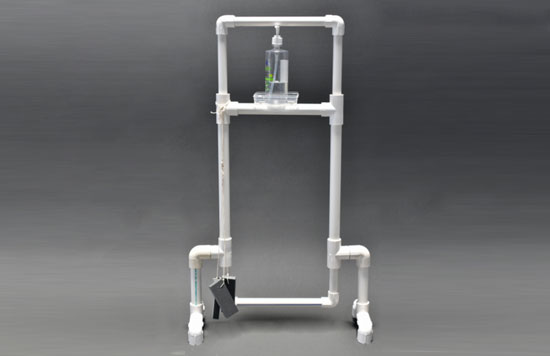 Product Specification
Brand
EO Energy
Type
Manual
Application
All public place
Material
PVC
Operational mode
Manual
Automatic hand sanitizer stand
Product Specification
Brand
EO Energy
Type
Automatic
Application
Commercial or offices
Operation mode
Electric
Mount on
Wall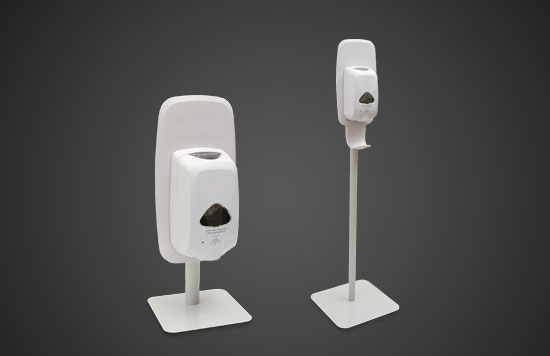 Automatic hand sanitizer for desk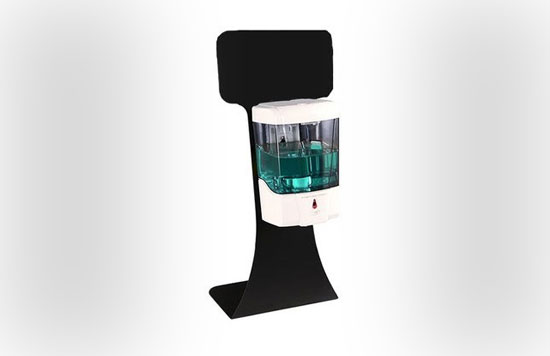 Product Specification
Brand
EO Energy
Material
Steel
Type
Manual, automatic
Application
Desk stand
Mounting
Counter mounted
Reason to buy hand sanitizer stand
Our hands continuously come in the contact of harmful germs and bacteria, which is a major cause of infection or illness. So that placing a hand sanitizer in a specific location such as home or offices is useful to wash or kill the germs instantly.
A portable hand sanitizer dispenser stand are the best & ideal solution to disinfect germs or viruses instantly at your residential, offices, commercial, or public places.
Also, when you place a hand dispenser stand in schools it provides a great habit to children to sanitize their hand frequently. Because many of them didn't understand the importance of hand sanitation. This touch-free hand dispenser stands to offer the best experience of hand cleaning & sanitation.
Apart from that, there are several features & advantages of hand sanitizer stand. Some of them are,
Hands-free experience

When you are using a foot-operated or automatic hand sanitizer stand, there is no need to touch a sanitation chemical bottle. This sanitizer dispenser is able to release the perfect amount of disinfection chemicals. Also, We provide various range of disinfection stand with the manual or automatic operating features.
Idle device for a public place

Due to the hands-free operational feature, this device is an idle solution to disinfect hand germs in all public places. Such as a mall, cinema, or common washroom. Also, the presence of this sanitizer stand holder looks & feature attract people to use it, especially for the kids.
Make a healthy work environment

By using this sanitizer stand in your commercial space, you can reduce the chance of spreading germs in your office. Due to the 0% germs spreading and clean environment there is a very high priority of increasing productivity. That is also beneficial in terms of the profit of the organization.
Long durability

EO Energy deals in the best quality hand sanitizer and stand, which protects you against germs & viruses which harms your health. Due to the best manufacturing quality and best in class design, the stand for hand sanitizer offering long duration service without getting any major issue.
Lightweight product

Our team of technicians design & manufacture lightweight portable hand sanitation stand. Due to the portable feature of a hand sanitizer holder, you can easily place this stand from one location to another. Also, we design & manufacture hand sanitizer stand as per client's requirements.
Why choose us to buy sanitizer stand
With the long years of experience in designing & manufacturing sanitation stand, we are the largest supplier of hand sanitizer stand in India. Our products are highly demanding in offices and other commercial or public sectors. We are committed & trusted firm to serve 100% genuine products to our clients.
Apart from making hand sanitizer dispenser our organization manufacture disinfection chemical and also provide the best team of cleaning workers to disinfect your residential or commercial space. The sanitizer stand foot-operated range we provide comes in various designs & features who make us prime distributors of hand sanitizer stand for sale.
Apart from that, there are various features and advantages of our service. Some of them are,
Low cost

The hand sanitizer stand price in India we offer is very low as compare to other hand sanitation providers. Due to our cost-effective feature, we are a prime choice for our commercial & industrial clients.
Product range

We provide hand sanitizer stand up dispenser in various designs according to the client's requirement. Also, the range of manual & automatic hand disinfection dispenser stand is more demanding in the public sector.
Warranty

With all the range of our products & services, we provide a complete warranty with them. That means if you are getting any issue with our hand sanitizer stand, we resolve that without charging a single penny.
Reliable service

EO Energy offering reliable service to our precious clients. That means we follow all the standard norms of sanitation service and manufacture all the products which are best for all applications & uses.
Doorstep service

EO Energy offers doorstep service for home or commercial cleaning with 100% reliable service. Also, we deliver our product at client location & providing proper operational instruction. Such as hand sanitizer stand or disinfection tunnel.
These are some of the best features of our service which make us a leading cleaning service provider in Delhi NCR.
To get more information or want to buy a hand sanitizer dispenser or hire a cleaning service, you can call or contact us for more information. We help you with detailed information on disinfection service.
So, What are you waiting for?
Contact us to know more about our products & services
Contact us through this form!