Green Chilli Generator
The green chilli generator is portable petrol Gensets come from the house of Kirloskar, And having more than seven decades of experience. KOEL green and KOEL Green Chilli generator have over one million Gensets services across the globe. When it comes to power, no one knows Genset better then KOEL. The Green chilli highest rated power in the segment, User-friendly KCC petrol Gensets with best superior durability & reliability, reusability ensures smooth and clean power to several connected devices.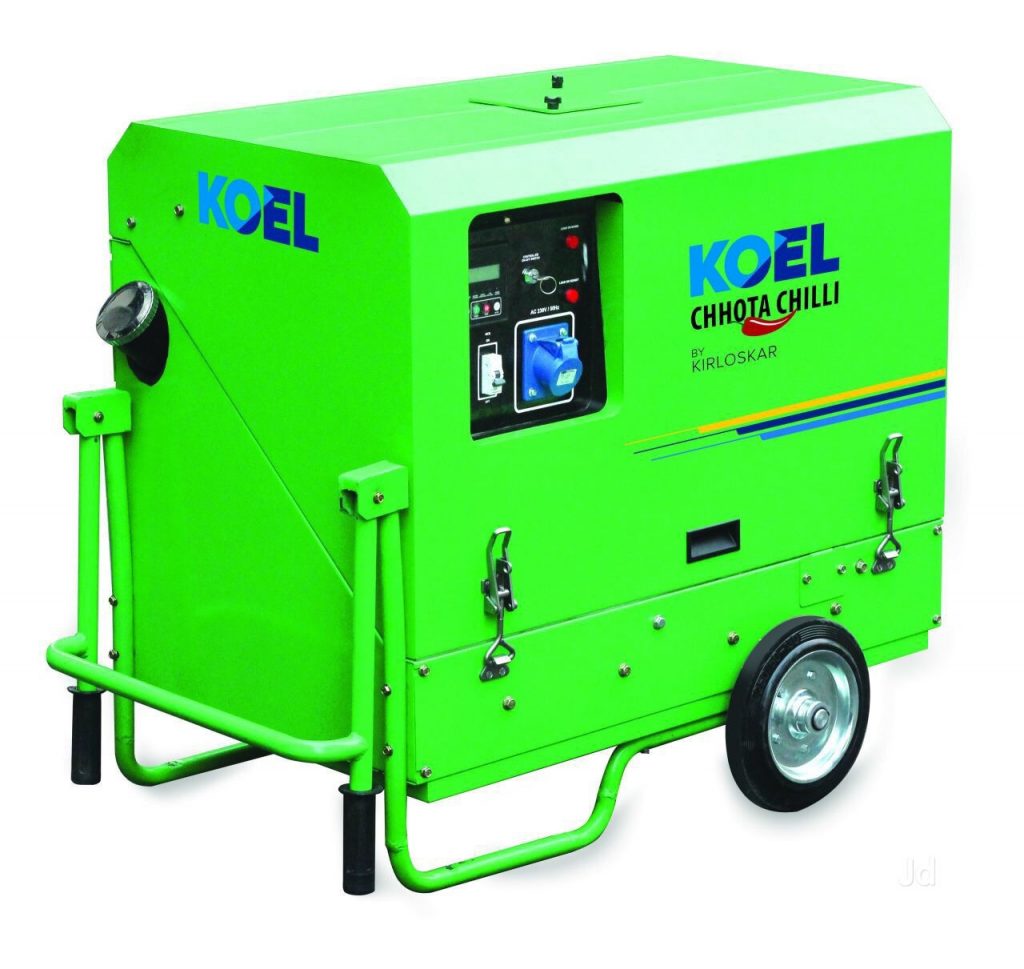 | | |
| --- | --- |
| Product Specification | |
| Fuel type | Diesel |
| Insulation | Class A |
| Output Type | AC Three Phase |
| Condition | New |
| Automation Grade | Semi-automatic |
| Power (KVA) | 75 KVA |
| Brand | Kirloskar |
Green Chilli Generator Power on Wheels
The Green Chilli diesel Generator KCC rolls and is equipped with a wide length handle. And It is found Of Mobile power backup can be convenient both for business or pleasure. From the Construction site to wedding celebrations. This feature is of great help for small establishments and mobile workshops too.
Ergonomically designed handle
Specially designed wheels
Easy maneuverability Enjoy the benefits of mobility and portability
Assurance
The Green chilli Generator power Disruption can affect your business as well as the comfort of your loved ones. A portable generator is like insurance against power cuts. KCC reaches you with the widest network of authorized dealers & skilled service engineers spread across India. Green Chilli Provide Customer just needs to Dial Our toll-free number & Service will be available at the doorstep.
5000 Service Engineers
1 year Onsite extended warranty on Industry buying
Over 450 Service outlets
24*7 quick Contact care center
Intensity of Control
KOEL Green Chilli Gensets put the direction in your hands through chip power Genset controllers. These Feature pressed controllers offer top-class checking and diagnostic facilities. These controllers Display a large group of parameters and put all control readily available. In-constructed AMF ability guarantees programmed power to move from the network to Genset and the other way around. The connection they to KOEL make AMFi boards and appreciate the advantage of consistently programmed changeover during force cuts. 
Watts of Silence
The progressive sound retention framework makes you completely lose during a power cut. It follows the Noise Regulation and Emission Norms of Central Pollution Control Board. In consistency with the new outflow standards, KOEL Green Chilli additionally keeps contamination under control.
How do you decide if you should rent a Generator or buy It?
But if the rise of the sharing economy has taught us anything, It's that buying is not always better. It is found of Most us would agree that, given the option, It's smarter to own the house you live in than to lease it, but what about somewhere you stay just two weeks a year? It that worth paying a mortgage on? Is it worth shouldering the cost of repairs? And what if, in a few years, You decide it's not as suitable as you thought? What If you Just Want to try Somewhere else?
With regards to picking between enlisting or purchasing a generator, similar sorts of inquiries apply. Indeed, in the event that you hope to utilize it constantly and you don't keep running into numerous issues, owning your very own generator will most likely end up being a wise venture.
Then again, in the event that you just utilize your generator for crises, it separates a lot of times or you understand half a year down the line that it's not exactly fit for whatever reason, you hazard a really genuine instance of purchaser's regret.
In this eBook, we'll direct you through the unavoidable issues and issues you should consider before settling on a choice in any case. we clarify the upsides and downsides of procuring or buying your very own generator, including cost, adjusting and upkeep contemplations.
Also, Aggreko's local technical experts promptly deliver and introduce these generators, and monitor their performance to guarantee proceeded, dependable service. Furthermore, And if you need a source to keep your generator rental running, Aggreko can also give a rental fuel tank or any of the rental power accessories you might need.