With our own modern & well-equipped manufacturing units, we design & manufacture the best quality silent & weatherproof enclosure for industrial DG Set. Our reputed firm works with a highly experienced team of experts. The core & deep knowledge of industry expertise make our services more trusted & reliable for industrial clients. In our manufacturing plant, you get the complete inquiry for all makes, models & sizes of DG Set canopy such as portable generator canopy & large industrial 2000 kVA generator canopy.
Both our manufacturing plant & corporate office is located in Delhi NCR which is easy to access for our vendors & clients. Also, we do the proper testing & inspection of each product before delivering it to the client's job location. Apart from the manufacturing of silent canopy, you will also find the best deal on diesel generators in various kVA ranges. We offered complete service of the backup generators from installation to maintenance. Our expert team can resolve all the issues which you get during the operation.
During the DG Set canopy manufacturing, we are only using quality raw materials & advanced technology. Our team never compromises with the quality of products. Let's get more information on the 2000 kVA generator canopy price & specification.
2000 kVA diesel generator enclosure price inquiry
Get the inquiry or industrial DG Set canopy specification & price detail. Buy the best in quality canopies at an affordable cost. Large range of highly rugged & robust design silent enclosure under one roof & available in standard dimension. With our completely client-oriented & promotive service, we are the prime choice for the industrial sector. Let's get more information on the price & specification of the silent enclosure for the 2000 kVA DG Set.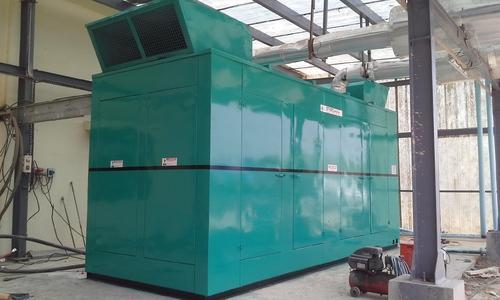 Product Specification:
| | |
| --- | --- |
| Designed for | 2000 kVA industrial Genset |
| External fuel tank | Inside |
| Surface | Paint coated |
| Design | Standard |
| Material | Stainless steel, Iron |
| Color coating | Standard |
| Customization | Based on client needs |
| Waterproof | Yes |
| Frequency | 50 Hz |
| Min. order quantity | 1 |
Generator canopy importance- Reason to buy
To protect your industrial DG Set against bad weather, theft & vandalism having a canopy is the best solution. A DG Set enclosure designed to make the industrial generators more silent & efficient. Also, the proper cooling & ventilation features of this generator canopy manage the temperature of the Genset engine. Apart from that, a few other most beneficial features of industrial silent generator enclosure.
DG Set safety: An enclosure provides complete safety to the DG Set engine & other parts. As we know that industrial Genset facing many challenges at their job location such as dust, rust & other particles. These unseen & small particles maybe harm your generator engine. But by using a weatherproof industrial enclosure you can easily protect your industrial diesel generator.
Portability features: We know that a portable generator is easy to relocate from one location to another. Generally, the industrial generator is very large & install permanently at the job location. But a few times we need to relocate it due to any reason. In this case, wheel moving canopy is very helpful & easy to relocate your industrial Genset.
Silent & vibration-free features: The sound-absorbing materials of the DG Set canopy make your industrial Genset more silent & vibration-free. Due to their noiseless performance, they provide a more hassle-free work experience.
Ventilation & temperature control: DG Set enclosure ventilation & cooling is the most beneficial feature making them more efficient. Also, the temperature controlling feature of Genset provides a long duration service during the power outage without any interruption.
External fuel tank: An industrial DG Set is used to run heavy-duty electrical equipment during the main grid failure. So the fuel consumption rate is very high & we need to refill the tank before every operation. But the availability of an external fuel tank inside the canopy provides relaxation from it.
Reason to choose EO Energy DG Set canopy manufacturing service
With several years of industrial experience in the manufacturing of high-quality generator canopies, we are the reputed firm & service provider of Genset enclosure in India. All the products were manufactured with quality raw materials & tested in all parameters. Also, we follow all the norms during the production & supply. Here get a list of a few of the best features of our service,
These are a few of the best features of our service that make us an industry leader in the manufacturing of canopy & dealership generators. With our service, you get the complete service for the backup generators in all kVA ranges & types. We offer rental DG Set & used generator service at an affordable cost. For more information or want to buy a 2000 kVA generator canopy call us. Our sales team will provide you detailed information including the price & specification of products.