Continous working for the manufacturing of Silent industrial Genset canopy, EO Energy is the largest manufacture & service provider of 62.5 kVA generator canopy for sale. We are using the latest technology & designing pattern at our service center. Also, the availability of all makes & models in various manufacturing brands of 62.5 kVA diesel generator makes us a prime distributor & wholesale supplier of the silent enclosure at an affordable cost.
This high-quality & supreme finish enclosure for the industrial generator not only reduces the noise of Genset but protects them against bad weather. The rugged & robust design of this canopy makes the industrial generator more reliable for the worst job location or any weather condition. Apart from that, all the DG Set canopy check & test in all parameters before the delivery at the client job location. Also, you get the inquiry for a used generator canopy if your budget is low. Along with the service of the silent enclosure, we are offering complete service for rental & used Genset in India.
Get more information related to the 62.5 kVA generator canopy specification & price detail & buy the best in design silent canopy for industrial Genset.
Silent enclosure 62.5 kVA DG Set- Price detail with product specification
Here we are introducing perfectly designed & the best material quality soundproof generator canopy prices for sale in India. Availability in various specifications based on the requirements of applications offering the best choice option for an enclosure. With the superior quality raw material & latest contemporary technology, all the range of 62.5 kVA Genset weatherproof canopy is designed for long-duration service.
Get an inquiry for the price & specification of the 62.5 kVA generator canopy in Delhi NCR & India.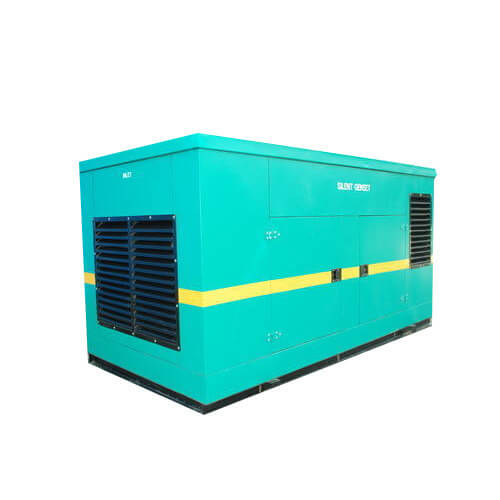 Product Specification:
| | |
| --- | --- |
| Canopy for | 62.5 kVA Genset |
| Frequency | 50 Hz |
| Surface | Paint coated |
| Type | Sound & weatherproof |
| Noise reduction | 35 to 45 dB |
| Body material | Stainless steel |
| Thickness | 10 mm |
| Suitable for | Industrial DG Set |
| Design | Rugged & robust |
| Water-resistant | Yes |
| Customization option | Yes |
| Availability | All makes & models |
| Dimension | Standard |
| External fuel tank | As per requirement |
| Deals in | New & Used |
62.5 kVA soundproof industrial enclosure- Feature & benefits
According to the norms of CPCB controlling diesel Genset sound & noise pollution is mandatory during the operation. So without any fault, this predefined guideline for an industrial generator is mandatory to follow by the user. A soundproof & weatherproof acoustic enclosure help to protect your DG Set by following all the norms of CPCB. An enclosure for the DG Set is always an important part of the industrial generator due to its latest features.
Above all the insurance this product is more economical & easy to buy. A few other features of DG Set canopy such as,
Why choose EO Energy DG Set canopy service
Our organization is the reputed & trusted brand of generator canopy manufacturer in India. We are delivering all makes & models of silent enclosures for all manufacturing brands of industrial generators. Also, the offering price of 62.5 kVA generator canopy manufactured by EO Energy is present with a low-cost & easy to buy feature. A few other highly rated features of our services,
Product warranty: EO Energy gives a complete warranty with their all products range. That means if you get operational issues during the warranty period, we are offering complete doorstep service without charging a single penny.
Easy to maintain: The maintenance cost of our products is very low & affordable due to quality components & tested in all parameters. Also. our team of technician provides the complete service related to the DG Set canopy at client doorstep if they needed.
Low buying cost: As compared to other dealers of the canopy in Delhi NCR & India, Our offering price of the silent enclosure is more affordable & easy to buy. You will get all the detailed information related to the price of soundproof acoustic enclosure online.
Product flexibility: Availability & flexibility in all kVA range & manufacturing brands make us a prime distributor & generator canopy dealer in India. Here you get the complete inquiry for the latest design enclosure at a low cost.
Canopy customization option: According to the requirements of DG Set & job location, we are offering the customization option for the silent enclosure. Such as updating the cooling system, exhaust system & other essential parts.
This is the list of a few of the best features & specifications of our soundproof DG Set canopy services in India. Apart from the deals in best in quality DG Set canopy for 62.5 kVA generator, we are providing the complete service of used & rental Genset in India. For more information call us, our sales team will provide you detail inquiry with product price & specification.