For the last 12 years, EO Energy engrossed in the manufacturing of soundproof canopies for industrial generators. All silent enclosures for sale design under the observation of a highly experienced team of experts & meet all the requirements of clients. To make your industrial generator more noiseless & weatherproof, EO Energy manufactures a 1250 kVA generator canopy for sale. According to the diesel generator availability in all sizes & dimensions gives the best opportunity to buy an enclosure.
Apart from all these features, the 1250 kVA DG Set enclosures & complete product warranty makes them more ideal for all power needs. Above all, we also ensure about on-time delivery & complete product safety. Due to the superior quality of our acoustic generator canopies or enclosure deliver peak performance. At the time of manufacturing of soundproof enclosure, we follow all the norms, as well as our testing team, does the proper inspection before installation of the DG Set canopy.
Including the manufacturing & service of generator canopy in Delhi NCR, EO Energy is the largest wholesale distributor & service provider of power generators in India. We deal in all manufacturing brands & different kVA ranges of portable DG Set for sale. Also, you will get the inquiry for low-budget used generators for sale & DG Set on rent.
1250 kVA generator canopy for sale- Price & specification
Get the inquiry of silent & weatherproof enclosure for 1250 kVA DG Set enclosure price & specification. Here we offer the best manufacturing range of Genset enclosures at a low & affordable cost. The standard dimension including the modification & customization of the Genset enclosure fulfills all the needs of clients. Also, the rugged & robust design of this enclosure provides complete safety against theft, vandalism & bad weather. Get more information on the price & product specification of the industrial generator enclosure.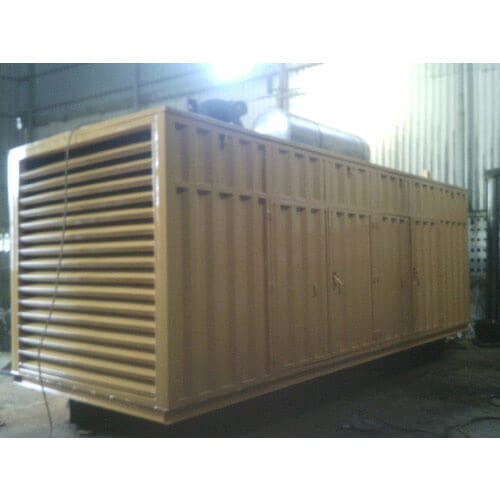 Product Specification:
Enclosure designed for
1250 kVA industrial generator
Availability
For all brands
Dimension
Standard
Type
Sound & weatherproof
Color option
Multicolor
Body material
Stainless steel, Iron
Thickness
10 mm
Suitable for
Industrial DG Set
Design
Based on requirement
Min. order quantity
1
Importance of generator enclosure for industrial DG Set- 1250 kVA generator canopy feature & benefits
Having a generator enclosure is the complete surety of safety for your industrial DG Set. As we buying a high rated industrial backup generator is more expensive & we can't afford it to regular. So the safety of DG Set is equally important. And for the long lifespan & get maximum efficiency with long duration service buying a generator canopy is the best solution.
Due to the large size mostly install industrial generators in open space but the dust & other small particles maybe harm your portable generator engine or other sensitive parts. Again the good layout & structure design of canopy provide the safety against them. A few other most beneficial features of the canopy,
Silent & noiseless performance: A silent generator enclosure gives a hassle-free work experience due to its noiseless & vibration-free features. Because of this eco-friendly feature, we strongly recommend the use of an acoustic enclosure.
Pollution-free service: As we know that a diesel generator is a major cause of air pollution. The bad gas including carbon monoxide which is very harmful to the environment as well as for human health emits from the generator. But the long silencer pipe of the generator canopy throws out all this harmful gas outside from human reach.
Increase DG Set efficiency: Apart from the safety & security of the generator, this acoustic enclosure increases the efficiency of diesel engine generators such as load capacity & operational hours.
Portability feature: Generally, the large industrial generators are very heavy in weight & not easy to relocate from one location to another. But the wheel-moving canopy makes your portable generator easy to shift from one job location to another.
Long duration performance: Most of the time industrial sector needs long duration backup duty to run large electrical equipment such as data center, telecom sector & others. To run a Genset in a proper manner we need a continuous supply of fuel. The availability of an external fuel tank with a canopy gives the opportunity to store fuel & use it during the operation.
Our Enclosure manufacturing service in India
With huge industrial experience, we are the largest firm & manufacturer of generator canopy in India. The reasonable price & quality service is the main key feature that makes our service more reliable. All the products we manufacture or sell are completely tested in all parameters before installation at the client's job location. Also, the quality material & other parts such as cooling fan, exhaust system increase the efficiency of our canopy. A few other most beneficial features of our service.
These are a few of the best features of our DG Set enclosure that makes our service more ideal for all job location. Along with the manufacturing of 1250 kVA generator canopy, We are also the trusted partner of all brands DG Set rental service & for sale. For more information or want to hire our service call us. Our sales team will brief you with complete detail of products including the price of the canopy.