Want to buy the best generator for home or business power needs? go with Cooper generator. This best in class power Genset built to provide clean, reliable, and continuous power for various needs & applications.
Cooper Genset design & manufacture with high-quality components & follow all safety features. The diesel generator of Cooper is specially designed to follow international CPCB norms to serve clean and soundproof energy for commercial or industrial applications.
With the growth of the industrial sector, they need more reliable & continuous power to run their application in a better way. Due to its reliable & trusted performance, Cooper diesel generator is always a prime choice for industrial power needs. Low fuel consumption and high work efficiency are few of the best feature come with this portable power backup.
With the reliable service of Cooper DG Set, EO Energy provide a complete range of copper generator for sale. Similarly like the Cooper diesel generator, we provide a Cooper gas generator for sale.
Apart from the Cooper New Genset, EO Energy deals in Cooper Second-hand DG Set for sale & generator on rent. To get more information or want to get a Cooper Genset, click on the link
Cooper generator we offer to buy
Cooper 15 kV Genset
This portable 15 kVA Cooper DG Set is an ideal match for mid-size commercial power needs. This power generator offers silent & clean energy at an affordable price range.
Here get an inquiry on latest specification & price of 15 kVA Cooper DG Set.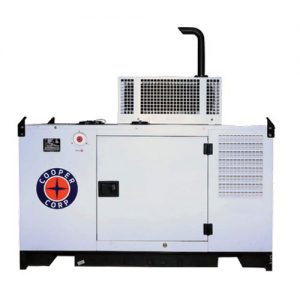 | | |
| --- | --- |
| Genset Rating | 15 kV |
| Fuel | Gas, Diesel |
| Application | Home, Business |
| Cooling Method | Air-cooling |
| Type | Semi-automatic |
| Output | Three-phase |
| No. of Cylinder | 2 |
| Insulation | Class H |
| Rated Speed | 1500 RPM |
| Frequency | 60 Hz |
| Voltage | 220 V |
| Alternator | Brushless |
| Noise | Soundproof |
| Aspiration | TA |
| Condition | New |
Cooper corporation generator for industrial use
Cooper design & manufacture a various range of high-power DG Set such as generator 100 kVA, 125 kVA, 160 kVA, 200 kVA, 250 kVA & 500 kVA DG Set for sale. All the Genset present with quality components & highly reliable diesel engine fuel.
Here get an inquiry of product price & specification.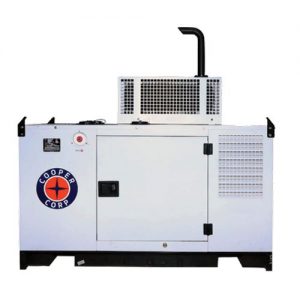 | | |
| --- | --- |
| Genset Rating | 125 kV to 500 kV |
| Fuel | Gas, Diesel |
| Application | Industrial |
| Noise | Silent |
| Rated Speed | 3000 RPM |
| No. of Cylinder | 2 to 6 |
| Type | Automatic |
| Output | Three-phase |
| Frequency | 50 Hz |
| Voltage | 480 V |
| Aspiration | Turbo-charged |
| Insulation | Class H |
| Alternator | Stamford |
| Cooling Method | Water-cooling |
| Condition | New |
Cooper generator 250 kVA price & specification
DG set 250 kVA used to run electrical equipment in commercial & large industrial sectors. All the generator we sell is properly checked & tested in all parameters to provide long duration service without any interruption.
Here get an inquiry on Cooper 250 kVA DG Set price & latest specifications.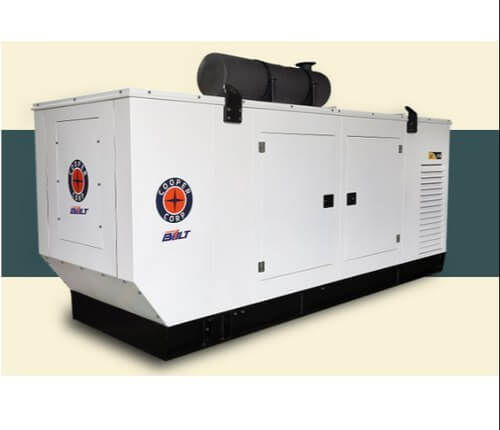 Product Specification
| | |
| --- | --- |
| DG Set rating | 250 kVA |
| Fuel | Diesel |
| Type | Automatic |
| Phase | 3 phase |
| Noise level | Silent |
| Cooling system | Liquid cooled |
| Compression ratio | 17.51 |
| Voltage | 380 V |
| Frequency | 50 Hz |
| Aspiration | TC |
| Insulation | Class H |
| Alternator | Stamford |
| Application | Industrial |
| Power factor | 0.8 lagging |
| Deals in | New, Used, Rental |
Benefits of having Cooper generator
Having a Cooper generator is a surety of continuous power during a planned or unplanned power failure. Not only for the industrial purpose but Cooper also manufacture a wide range of small home generator for households. There are numbers of benefits of having Cooper power generator on your job location such as,
Provide prime, standby or continuous power for every job application.
Cooper silent generators provide soundproof power. So that these are the best-selected Genset for commercial or business external energy needs.
Deliver quick & reliable services during a blackout.
Safety features of this Genset help to operate safely in any kind of disaster.
Cooper Gas Genset & propane generator are the best power backup options to get clean energy for home power backup.
Wide range of sales & parts support.
Allow you more mobility in daily use with highly efficient energy.
Features of Cooper DG Set
Cooper Genset design & manufacture their own engine, which means these generators powered with their own power engine. So that this DG Set is more reliable as compared to another power backup.
Quieter as compare to other industrial diesel generators.
Small in size and light in weight.
Follow all emission norms to serve clean & eco-friendly energy.
More than 100+ service support in PAN India.
Low fuel consumption with high work efficiency.
Due to high-quality components, this power backup is able to serve continuous prime power in the worst location as well as bad weather conditions.
About the manufacturer
Cooper Corp Generator grabs attention around the world especially and specifically in India as it is recognized. This organization manufactures one of the most prominent and popular Standby Genset, which carries out the whole tasks with great interest and dedication to let avail its customers around the world. The most appropriate thing about this Genset, the related service which suits and fulfills their requirements in every way. More importantly, the world is aware of the fact that the Cooper corporation generator works as a sole proprietor. The branch head office of Cooper power DG Set is located in Pune, Maharashtra.
Cooper corporation design & manufacture several ranges of diesel and Cooper gas generators such as 2 kV to 15 kV range DG Set for home or small business and up to 2000 kV Coopper Genset for Commercial or industrial power needs.
Why choose us to buy Cooper Genset
EO Energy is a trusted partner of Cooper corporation, Who provides generator services in Noida & Delhi NCR. Also, we describe all the features & components detail of Genset before selling or installation. Quick availability & after-sales service support make us a prime choice for industrial power backup.
Our customer-oriented reliable service & commitment to client satisfaction present us as a leading generator distributor in NCR. The best things about our services are,
Low cost
Compare to other Genset distributors, Eo Energy sell their power backup at an affordable price & low cost. Also, there is no need to pay any hidden charge or extra cost at the time of installation or other DG services.
Flexibility
The range of availability for all job locations is the key feature of our services. We provide flexibility in a generator, which means you can buy the right size generator based on the requirement of power or needs.
Sales & service support
Our sales team is always taking a stand to find out the best possible portable generator for clients. Also, we support in service & maintenance of DG on the job location area.
Best diesel DG Set with high-efficiency
EO Energy deals only highly reliable, cost-efficient & fuel-efficient diesel engine generator. For industrial power needs, we provide a highly work-efficient emergency Cooper DG Set for various power needs.
Single window ownership
Quick & responsible service is our primary commitment to our clients. Also, we reduce the documentation process to fast availability for power backup.
Because of our trusted service, from the last 11 years, we are leading wholesale trader of Cooper power backup in Delhi NCR. Apart from the deal in New generator, We provide well maintained Second-hand generator for sale as well as you get a generator on rent.
To get more information or want to buy a DG Set at the best price, you can call or contact us. Our sales team will assist you with the generator price & specification detail.