Purchasing a second-hand generator in good condition is always more beneficial as compared to buying a new one. As well as, if your budget is low a used Genset is a great way to prepare your business against power failure due to any reason. Because of low cost & reliable duty rating, different range of Ashok Leyland Used DG Set is one of the best ways to protect your home or business in a power outage.
EO Energy deals in a various range of these second-hand power backup DG set. We are one of the prime wholesale & retailer distributors of Diesel generator in Delhi NCR. Also, we provide a complete range of used Genset for sale.
Note: We also deal with the New & Rental Ashok Leyland Generator. for more information click on the link.
Here we will describe the benefits of the second-hand Genset for your home and business application. Also, we will share the information on how to buy a used power backup and points to consider when buying an old DG Set. But before sharing the information on this generator, First of all, we take a look at Ashok Leyland Group.
About the manufacturer
Because of great performance in the automobile sector, this is one well-known organization. This industry was established in the year 1948 in Chennai.
Apart from the automobile sector, this organization is a prime manufacturer & distributor of a complete range of portable Genset to heavy industrial DG Set. Due to the, best and iconic features of Leyopower DG Set, these Genset are the most demanding brand names in the industrial sector.
Because of Leyopwer's advanced technology, this generator engine offers a fully integrated power system with global standards. Also, these ready-to-use power backup DG Set follow the latest CPCB-2 norms, to work comfortably in India as well as internationally.
The high-quality Genset engine and the reliability of Ashok Leyland, this organization takes pride in running over 150,000 diesel generators in the last ten years. Because of this unwavering confidence, Ashok Leyland expands its comprehensive engine offering from 5 KVA to 2500 KVA.
These power generators are esthetics designed, highly fuel-efficient, environmentally friendly and low on operating costs.
Key Features of Ashok Leyland Used DG Set
Ashok Leyland Used Generator: models & Its Specification
Ashok Leyland manufactures the diesel generator from 5 kV to 2500 kV. Some of the model and its specifications are as follows: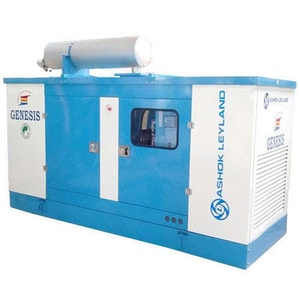 | | | | | |
| --- | --- | --- | --- | --- |
| Genset Model | LP5D | LP15D1 | LP20D1 | LP25D1 |
| Power Rating | 5 | 15 | 20 | 25 |
| Electric Power | 4 | 12 | 16 | 20C |
| Rated Current | 20.85* | 21 | 27.84 | 35 |
| DG Size | 970 * 580 | 1650 X 900 | 2000 X 900 | 2000 X 900 |
| Fuel Tank Capacity | 12 | 55 | 55 | 55 |
| Battery Capacity | 35 | 90 | 90 | 90 |
| System DG Voltage | 12 | 12 | 12 | 12 |
| ENGINE SPECIFICATION | | | | |
| Engine Model | AL418DG1 | AL2CDG1 | AL2CTIDG2 | AL2CTIDG2 |
| Engine Rated kW/Engine Rated HP | 5.5/7.5 | 15.6/21 | 25.2/33.8 | 25.2/33.8 |
| Aspiration | NA | NA | TCIC | TC AC |
| No. of cylinders & configuration | Single, Vertical | 2, Inline | 2, Inline | 2, Inline |
| Bore x Stroke | 86 x 72 | 104 x 113 | 104 x 113 | 104 x 113 |
| Displacement | 0.418 | 1.915 | 1.915 | 1.915 |
| Compression ratio | 20±0.5:1 | 17.5 ± 0.5 : 1 | 16.5 ± 0.5 : 1 | 16.5 ± 0.5 : 1 |
| Fuel Consumption | 1.5 Lts / hr | 3.5 | 3.6 | 5.0 |
| Lube Oil Capacity approx. (Ltr) | 1.65 | 6 | 6 | 6 |
| Coolant Capacity approx. (Ltr) | Air Cooled | 10 | 12 | 12 |
| Alternator | 230 V** | Brushless, Single Bearing, IP23, Voltage Regulation ± 0.5%, 0.8PF Lag, Class H Insulated, 50 Hz | Brushless, Single Bearing, IP23, Voltage Regulation ± 0.5%, 0.8PF Lag, Class H Insulated, 50 Hz | Brushless, Single Bearing, IP23, Voltage Regulation ± 0.5%, 0.8PF Lag, Class H Insulated, 50 Hz |
Things to Consider When Buying Ashok Leyland Used Generator
Age, Hour, Usage
Before buying a Second-hand generator, you need to consider a few basic but important points. firstly, you have to find out how many hours this old generator has been used by the previous owner. You can easily check the total hour of Genset operation with the help of an odometer. So you will easily find, whether this old Genset is useful or not for your business.
A generator, which is used as a standby or backup power source, Maybe better maintained and have less used than the one used as a major power source. But, to get a better deal in used Genset, always check the total hour of operation before buying one.
How Well it has been Maintained
This is another area where you might not be able to get much historical information. But you can check the seller's current level of knowledge on maintaining and repairing diesel engines. Also, trying to get furthermore inquiry on Genset AMF panel, power units, and generator ends.
Guarantees and Limited Warranties
Guarantee and warranty are one major concern when you buy any used equipment. Similarly, this issue comes with a pre-owned generator. But most of the old Genset vendors. Who are truly professional and properly test and maintain old power generators. Also, gives you a limited period warranty.
Because of this major concern of our valuable customers, EO Energy gives 3 months additional warranty with pre-owned Genset.
Reason to Choose EO Energy Used Generator
Low cost
Low cost always a big advantage when you buy a used Genset. Because of this low-cost benefit, many startup industries go with a pre-owned DG Set. Also, you can choose a variety of options according to your needs.
EO Energy provides a various range of Leyopower Second-hand Genset. All these DG Set present with a number of features and very low ownership costs.
Flexibility
The biggest advantage when you buy used silent generator from EO Energy is flexibility. Because when you buy a DG Set maximum distributor will provide you as-is, but we give you the option of modification. That means if you want to make any change in pre-owned DG Set, we will definitely do.
Also, if you want to change the additional parts of the used diesel generator like the control panel or AMF Panel, you can easily replace it. Hence, the flexibility of modification will best suit your business.
Reliability
Due to used words, a negative impact always comes in our mind, When we go with any used accessories. The same impact comes when we buy a second-hand Genset.
So, always buy a used DG Set from a certified dealer. Because most of the second-hand generator dealers always test, repair, and maintain used DG Sets before delivering any customer.
Less paper-work
Due to the less paper-work, it will allow you to faster-used backup generator recovery. When you buy a new DG set, you need to follow lots of paper processes. But when you go with EO Energy used Genset, the less paper-work advantage comes with this DG Sets.
Lead time
When you are ordering a new Genset, There is a huge gap between ordering date and receiving date, When you are ordering a new Genset. This lead time generally comes because of the ordering to manufacturing to the receiving process.
But when you purchase a used DG Set, there is no need to wait for a long time to get your generator. Because a used industrial generator is always present in the ready to use condition. So when you will finalize your Genset, the dealer will provide you within 2 or 3 days.
Why choose us
If you are planning to buy a generator for your home or business purposes, but your budget is low. Then, buying a pre-owned DG Set is equally beneficial for your power needs. Because of its reliability, efficiency, and power loading capacity, Ashok Leyland Used generator is one of the prime leaders in the used range of DG Set.
EO Energy provides a various range of Leyopower pre-owned DG sets. with 11 years of a glorious experience, we are prime distributors of the used Genset in Delhi NCR. We deals in complete range of portable generator to a used industrial diesel generator.
For further more information you can contact EO Energy. Our team of experts will assist you quickly. Also, you can drop an mail or call us for any Genset related query.