EO Energy offers a complete solution for industrial generator enclosure for sale. We design & manufacture the best quality weatherproof & soundproof canopy in India. Also, our offering cost of DG Set enclosure is more reliable & easy to buy. Here we provide the complete detailed information for the 125 kVA generator canopy price & product specification. This silent enclosure for a generator is designed with high-quality materials & under the observation of a qualified team of technicians.
canopy is ideal for protecting the industrial diesel generator against bad weather, theft, & vandalism. Also, the rugged & robust design of this weatherproof enclosure increases the efficiency & shelf-life of Genset at the worst weather condition or job locations. Also, all the products come with a long duration warranty, That means if you get any issue during the operation our technician will provide doorstep service without charging a single penny. The offered products are designed while keeping in mind prevailing market demands to meet the clients' expectations. Furthermore, these hoods are available with us in different sizes to meet the diversified demands of the clients.
Apart from the manufacturing of silent diesel generator canopy, EO Energy is one of the trusted suppliers & dealers of portable generators for sale in India. We are also offering used & rental generator service for temporary power needs.
125 kVA generator canopy price & specification
EO Energy is one of the largest manufacturers of generator canopy in Delhi NCR & India. Our team of technicians designs the best quality industrial generator canopy 125 kVA. This silent acoustic enclosure for DG Set customized as per the client's choice. Also, our highly qualified team of technician provide the complete solution for backup power with safety features. Our Acoustic Enclosures come with advanced technology by which various kinds of challenges in terms of noise can be combated in a professional manner professionally.
Here get the complete inquiry for a silent enclosure for the 125 kVA DG Set.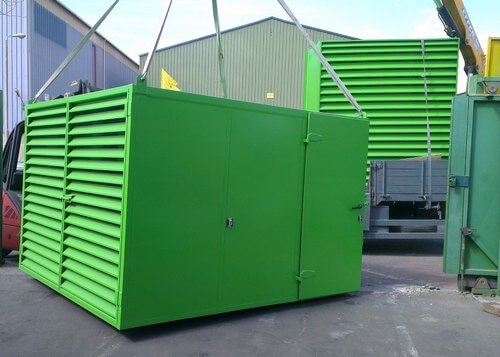 Product Specification:
| | |
| --- | --- |
| Enclosure for | 125 kVA DG Set |
| External fuel tank | 200 ltr |
| Surface | Paint coated |
| Design | Standard |
| Material | Stainless steel, Iron |
| Color coating | Standard |
| Customization | Based on client needs |
| Waterproof | Yes |
| Frequency | 50 Hz |
| Min. order quantity | 1 |
Reason to buy 125 kVA generator enclosure- features & benefits
To increase the safety of DG Set as well as reduce the noise of industrial diesel generator engines, generator enclosure is always the best solution. This DG Set canopy protects the parts of the diesel generator against bad weather, theft & vandalism. Also, the exhaust system of the enclosure provides the proper cooling to the engine. A few other best features of the 125 kVA generator canopy.
Our DG Set enclosure service in India
With the best industrial experience, EO Energy is the reliable service provider of silent enclosures in Delhi NCR & India. Our highly qualified team of technicians design this weatherproof & noiseless canopy by using the latest & modern technology. We are using only quality materials & components during the manufacturing of acoustic enclosure. A few other best features of our services.
These are a few of the best feature of our service that makes us a trusted manufacturer & wholesale supplier of silent Genset canopy in India. With our trusted service you will get the complete inquiry for a silent generator for home & industrial DG Set. For more information or want to buy Enclosure for 125 kVA, Genset calls us our sales team will provide you detailed information with product price & specifications.