If you live in a place where you can face power failure frequently, then buying a portable generator is one of the best options to handle power outage situations.
A portable generator is a small size gas or diesel engine generator, which is mostly used in the home. Most people install their home generator outside the home because the generator emits few injurious gases like carbon monoxide (expected portable solar power generator), which is not good for health.
Installing a small portable generator outside the home or your workplace is always beneficial. But because of its light-weight feature, anyone can steal and take it away. So that securing a portable diesel generator is always a major concern for all of us. Also, the portable generator price is costlier, which means it not easy to buy another silent home generator again if the first one is lost.
In this blog we will give you the idea of, types of portable generators and how do you secure a silent portable generator.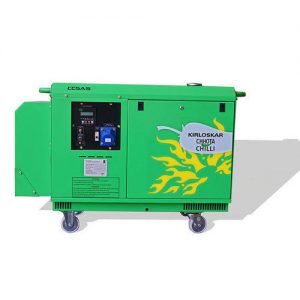 Types of a portable DG Set for different outage
Portable home generators mainly available in 3 types: portable generator, inverter generator, and standby generator. All portable home generators are used to provide power backup in an emergency to your home or businesses.
| | |
| --- | --- |
| Generator Type | Uses |
| Portable Generator | Television, Fridge, and other home appliances |
| Inverter Generator | Car batteries, laptop, and other small electrical appliances |
| Standby Generator | Emergency services like Hospital, fire system, high rise buildings |
Why we need to secure a portable generator
Your portable generator is one of the valuable items in your households. So you need to protect your home generator from theft and weather.
So if you don't know how to secure this luxurious item, there is no wonder if someone stole it or it may go to bad due to outside weather.
But no need to worry here we will tell you how to secure your generator from theft and vandalism.
Steps to secure your portable home generator.
Install under a storage shed or garage
The simplest way to protect your home is to install it in a safe location. A locked garage or a shed is one of the ideal places to install a running or not used Genset.
But when you hide your generator a few things you need to consider like place your home generator in the overhead storage rack, if you are no longer using it.
Use a chain for binding your portable generator
Locking your generator with a thick chain is one of the best ways to secure your home generator. Because it is not easy to cut without the help of any serious equipment. You can use a bicycle or any other heavy and strong metal chain to lock your Genset.
Use a security fence around the generator
If you have a power backup generator or some other expensive machinery in your home, then it's quite better if you are using fencing around the home or place where you can install this expensive item.
The best solution to keep your power backup generator safe, to make a strong stone wall around the Genset. But metal or thicker wooden fences can also work.
Security camera
Security cameras not only provide security to your expensive item, but they will cover and secure your entire home. WiFi-enabled home security cameras can provide you live footage and if anyone tries to break it, you will check immediately.
Installing a security camera near your home generator is always beneficial. Not only you can see the live footage but also you can store this footage for future inquiry.
Don't leave the generator in an open area
If you are using security cameras or lock for your generator, but still your Genset present in an open area, then security risk will be high. Because anyone can damage it easily. So put your home power backup indoors, especially if it was no longer used.
Maintain the privacy
It's better if fewer people know that you have a new portable generator. You can reduce the noise of your portable home generator by using an acoustic fence or a generator canopy.
Always use a quiet portable home generator
Many generators are present with soundproof features. Some of the silent home generators produce less than 65 decibels of noise. Quiet generators are easy to hide from unknown people.
You can also reduce the noise of the generator by using a generator soundproof canopy.
Keep Genset documents in a safe place
If you are purchasing a new home generator, then please keep Generator documents in a safe place. In this document, the Genset manufacturer will provide you the Genset serial number and other important documents like a warranty card.
All generator documents are very useful in the condition if your Genset gets damaged or stolen.
Create an identity
If possible then mark an identical sign on your portable power generator. This will be very useful if you get your generator after it is stolen. You can easily identify your home generator with the help of this mark.
Secure portable home generator against bad weather
Secure your portable inverter generator from theft is always beneficial, but don't forget to secure it from bad weather. The maximum time we have done the installation of generators outside the home, and the outside weather will become a prime reason to damage your new generator.
To protect your home power backup against rain and snow, you need to set two goals. The prime goal is to protect the generator's engine and wiring. The other one is to keep moisture clear so that there is no risk of electrocution.
The best way to secure your home standby generator from unexpected weather, you need to create an outdoor enclosure for Generator. You can create a temporary Genset enclosure if you are using a portable generator in only bed weather, either you can make a more durable and strong structure generator enclosure for long term use.
You can also get a huge variety of pre-designed power backup enclosure in the market. Where you can find various features like some present with light-weight or portable structure while others are manufactured with heavy metal boxes that you can put a generator inside.
These generator enclosures are the first line of defense to protect your portable home generator against bad weather.
Conclusion
A Genset enclosure or other generator protecting equipment will ensure the security of your portable home generator against any weather condition or thieves. It will also ensure that there is no need to install your generator inside your living space.
You can self-design, Genset weather and thief protecting devices or there is lots of variety you can choose from the market.
I hope, with the help of this article you will understand how you secure a portable generator against every situation. This article will also help you to protect your home power backup against bad weather and increase the life of portable generators.