Nowadays we have seen that lots of people using a generator in their daily life. A power generator is useful to run your business or home utilities during any planned or unplanned power failure. But most of the time the noise of Genset is a major challenge for us. To reduce the noise of DG Set we use generator silencer or mufflers.
Here in this blog, we share the information on the generator silencer for a silent generator. Also, get detail on generator silencer pipe & mufflers. Basically the voice of the Generator engine is very high when we are not using mufflers for DG Set.
A generator is present in different shapes and sizes and various fuel types. Such as petrol, diesel, gas or other fuel DG Sets. Compare to other fuel Genset, industrial diesel generators are producing more noise. To reduce the noise of these DG Set diesel generator mufflers are one of the best options.
The diesel generator exhaust silencer not only helps to reduce the Genset noise but also it will maintain the smoothness of engines.
Generator sound & how we reduce it
We know that the noise of the DG Set is very high & irritating. It almost creates 70 to 100 dBA noise at the time of running. The high noise generator such as industrial or commercial Genset creates more noise pollution. Generator mufflers or silencer pipe reduce the noise of Genset.
In Short, we can say portable generator silencer or mufflers are introducing to reduce the unwanted sound of DG Set.
Importance factor of diesel generator exhaust silencer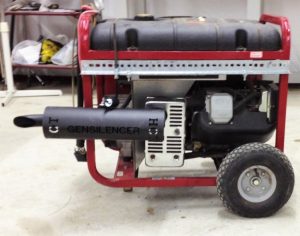 Reason to silence generator
To silencing or muffling the DG Set will not only you away from the continuous irritating sound of the moto. But also generous act for others around you.
Utilizing a generator in a local setting can make your neighbors be irritated by the consistent automaton of the generator. And indicating that you are in any event attempting to hold the sound down will go far.
For those utilizing a generator in the winter months where snow is predominant. Keeping your generator close to your home or in your carport might be essential.
This can enhance the sound incredibly and keeping it stifled can truly assist. Out of the blue, you may need to mute your generator.
Why we choose silent generator & need of silencer
In the previous section, we have discussed that the sound of DG Set is more irritating not only for you but also for the person who lived around you. Apart from this, the sound of power backup is not good for your health. So the best thing to avoid this situation you need to choose a silent generator.
When we use a silent generator, less noise is one of the best advantages that come with it. And we help the climate with low noise pollution. People who work around the heavy industrial generator are not able to do proper work due to high noise disturbance. Also, it affects human health and could be increased by many diseases like stress, tension, and many diseases. While we use an exhaust diesel Genset silencer generator, we able to reduce a lot of sound of Genset.
Various types & need for mufflers & silencer
We have to choose the mufflers generator to reduce or control the sound of Genset. With the help of generator silencer, you can maintain the sound of DG in under 72 dBA.
In markets, there are lots of generators mufflers, which able to reduces the sound of DG Set. The plywood silencer box is a possible efficient way to reduce noise pollution. We could then place the plywood around the generator and it reduces up to 10 decibels sound of Genset. Also, we choose the box-like construction which will push the noise instead it keeps them away.
Silencer box & how it will work
If you need an increasingly far-reaching arrangement, you can manufacture a silencer box. That introduces over your generator to suppress the clamor like the compressed wood technique.
Building a silencer box will take a touch of carpentry, yet it gives you a simple method to rapidly stifle the sound of your generator in a hurry.
To do this, you should manufacture a wooden edge that fits over your convenient generator and join either pressed wood, froth backing, or some other durable material reasonable for building that will mute the sound.
This may resemble a kindhearted arrangement. However now and again we will in general disregard this reality. You may need to go through some additional cash to have the generator introduced in some open space and away from the home and neighbors.
This can be diminished a considerable amount if the generator is situated in an open space. Keep and fumes confronting ceaselessly from the home. In the event that you can't move your home generator away from your house, this could be a decent alternative. You could make the fumes pipe somewhat more and taller and guarantee that the sound gets discharged at a higher elevation. Attempt to divert sound however much as could reasonably be expected.
How generator silencer keep the noise level down
This is another straightforward, tried and true and demonstrated route by which you can get sound far from your home and neighbors. You could keep the generator mounted behind a shed.
On the other hand, it could have it mounted behind a strong article and this will unquestionably retain a lot of sounds. In the event that you have a nursery or lawn, you could attempt to mount the generator behind a group of trees or other such regular hindrances. This could help a great deal in lessening clamor levels essentially.
Continuously introduce your generator on a solid base. You should attempt to abstain from putting them up on concrete or wooden floors. It will make a lot of commotion due to vibration. Rather, you would improve to introduce in a sandy or lush spot. Be that as it may, it ought to be even and firm. Grass ingests a considerable amount of vibration and sound.
It would not be an ill-conceived notion to construct a decent stage comprising of sand and different materials that have great protecting properties.
Conclusion
In fine, while clamor contamination turning out from generators is a significant enormous irritation, there are numerous available resources by which you can deal with it. While you could purchase a costly generator, utilizing home-made arrangements could likewise help in lessening this issue a considerable amount. You additionally could take the assistance of experts ought to accept that you will most likely be unable to deal with it all alone.