EO Energy provides the complete solution of power needs with deals in a generator for home & industrial Genset for high power needs. Apart from that, this organization is the largest manufacturer & service provider of silent enclosures in India. These silent DG Set canopies are available in all makes, models & different manufacturing brands of DG Set including a 320 kVA generator canopy for sale.
Our organization introduces as an eminent manufacturer, wholesale trader & supplier of silent & weatherproof enclosures for industrial generators. This 320 kVA DG Set canopy is able to protect your Genset against bad weather, Theft & vandalism. All these features of the generator canopy are helpful to increase the shelf life of diesel generators. Also, the customization according to the needs increases the efficiency of Genset.
Including the manufacturing of silent canopy, EO Energy is one of the most reliable & trusted dealers of generators in various kVA ranges such as DG Set 5 kVA to 2000 kVA industrial generator. Also, the availability of low-cost used generators & generators on hire makes our service more precious & best in the industry. Here get detailed information for our 320 kVA generator canopy products including price & product specification.
320 kVA generator canopy for sale- Get an inquiry
Get the inquiry for silent canopy for 320 kVA generator price & specification in all available makes & models. Also, get the opportunity for modification & customization in canopy according to the needs of clients. High-quality material & the latest technology is the predefined standard of our service. The highly qualified team of technician always work with the latest manufacturing technologies to provide reliable service. Our motive is 100% satisfaction to our precious clients by providing the best in quality industrial Genset canopy at a nominal price.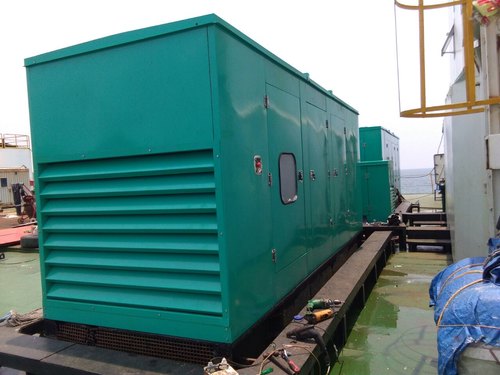 Product Specification:
| | |
| --- | --- |
| Canopy for | 320 kVA DG Set |
| Application | Sound absorber/Weatherproof |
| Material | Iron, Stainless steel |
| Size | According to job needs |
| Water resistance | Yes |
| Sound level | As per CPCB norms |
| Surface | Powder-coated |
| Freestanding | Yes |
| Noise reduction | 35 to 45 dB |
| Min. order quantity | 1 |
Reason to buy silent/weatherproof enclosure for Genset
Having a canopy for DG Set is always beneficial due to its security features. The silent generator canopy not only reduces the noise of the DG Set but also protects your backup generator against bad weather & other harmful applications. Apart from that, the well-furnished design gives portability. So you can easily move your portable generator from one location to another. A few other features of silent generator canopy,
Our generator canopy manufacturing service
In the list of generator canopy manufacturer brands in Delhi NCR, EO Energy is one of the most reputed names. We offered highly reliable & efficient service for power solution equipment in various categories. Such as manufacturing of silent enclosure, dealership of diesel, portable, silent & small inverter generator for sale. Here get the list of a few best beneficial features of our service.
Low Buying cost: As compared to other silent canopy manufacturers & service providers, our offering cost of the silent enclosure including 320 kVA generator canopy is more affordable.
Product warranty: All the products present with a long duration warranty. So if you get any issues during the operation, our technician will help you to resolve them without charging a single penny.
Flexibility: The huge availability of products including canopy & other backup generators increase the flexibility in service. So you can easily choose any product from various categories according to your needs.
Parts & service support: Apart from the manufacturing & trading of backup Genset & canopy, EO Energy provide complete service support after-sales. Also, we offer 100% genuine parts support with our all products.
Huge service categories: The huge service in various categories such as availability of complete kVA range of DG Set. Such as 3 phase & single-phase DG Set in all makes & models is the best feature of our service. Also, you will get the inquiry for the used generator for sale & Genset on rent for temporary power needs.
These are a few most beneficial features of our service of DG Set & canopy manufacturing in India. For more information or want to buy a 320 kVA generator canopy call us. Our sales team will provide you detail in brief including price & specification.