Eicher 30 kVA generator for sale in India at wholesale rate. Buy highly fuel-efficient & best in design power Genset at very cheap & easy to buy cost. So if you are looking for the best deal on Eicher 30 kVA diesel generator your search ends here. Yes, we are the largest wholesale trader & supplier of large series of standby DG Sets for sale in India's top cities Delhi NCR, Mumbai, Chennai, Kolkata & other major cities. Our offering DG Set check & inspect in all parameters before install at the client job location. The team of experienced experts does the needful up-gradation based on job requirements.
In our DG Set trading & distributorship, you will get more inquiries for rental DG Set service & 30 kVA Eicher used generator service in India. Let's get more information on the price & specification of the 30 kVA generator.
Eicher 30 kVA diesel generator price inquiry
Get the inquiry for 30 kVA Eicher Genset price in India with the latest specification, features & other details. Remarkable fuel efficiency & noiseless operation is a few of the best features of the Eicher silent DG Set. Also, the ability to provide long-duration power backup during the unplanned main grid failure makes them a prior choice for the clients. Here get more detail on the price & specification of diesel generators.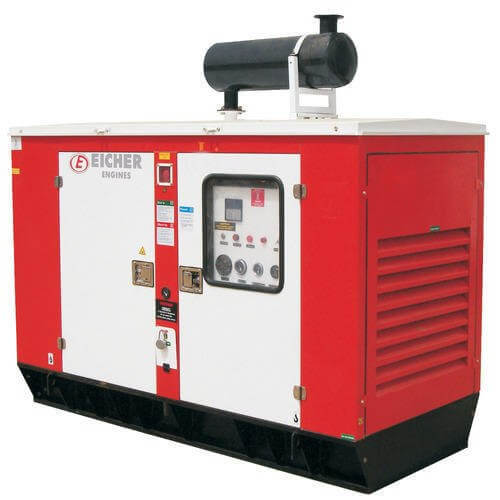 Product Specification:
| | |
| --- | --- |
| DG Set rated power | 30 kVA |
| Duty | Prime/Standby |
| Engine | 422 TC |
| No. of Cylinder | 3 |
| Aspiration | TC |
| Engine power | 48.2 Bhp |
| Rated speed | 1500 RPM |
| Bore*Stroke | 100*125 |
| Displacement | 2945 cc |
| Frequency | 50 Hz |
| Power factor | 0.8 lagging |
| Governing class | A1 |
| Insulation | Class H |
| Starting system | Electric |
| Deals in | New, Used, Rental |
Features of 30 kVA Eicher Genset- Reason to buy
Eicher 30 kVA DG Set is not only available in finest quality but also in the term of durability & performance these DG Sets is always the best buying option. Apart from that, no need to bother about the price of the Eicher 30 kVA diesel generator, we give the surety of the most affordable selling price. This modern design portable generator comes with a number of features & benefits. Here get the list of a few of the most beneficial features of this 30 kVA Eicher DG Set.
Reason to choose EO Energy power backup service
With huge industrial experience in the trading of backup generators for home, commercial & industrial DG Set, EO Energy is the most trusted brand in India. The organization works with a highly experienced team of experts to provide the best service to our precious clients. Also, we do the proper inspection of the job site before the installation of Genset. Along with sales, you can also find the service for maintenance & DG Set parts support at our service center. A few of the best features of generator service in Delhi NCR & India.
Affordable price: The offering price of the Eicher generator is very low & easy to buy. You can review our generator price listing online. Compared to other service providers our offering cost is cheaper.
Genset warranty: All the offering range of backup DG Sets present with a complete warranty of the engine & Genset parts. That means if you get any issue during the warranty period our team of technicians will resolve it without charging a single penny.
DG Set testing: Before installation of power generator at the client job location, we do the proper testing & inspection of Genset. Our highly qualified team of technicians properly check all parts of the DG Set.
Generator maintenance & parts support: Along with the deals in backup DG Set in various kVA ranges & categories such as rental generator & used DG Set service in India, EO Energy offers the service for generator maintenance & parts support. We only provide 100% genuine & company-manufactured Genset parts.
These are a few of the most beneficial & attractive features of our service for the backup generator. For more information & want to get the best deal on Eicher 30 kVA generator call us. Our sales team will provide you detailed information including the price & specification of products.