Want to rent a DG Set? Hire Supernova rental generator with reliable service and heavy-duty performance. This generator provides long-lasting power with high fuel-efficiency & work stability. Because of its best-in-class service & easy to handle design, choosing a Supernova DG is always the best decision for your external power needs.
Supernova is a well-known generator brand in the Indian market, which is mostly used as an emergency power backup in various fields such as hospitals, IT Sector, small business or home, and industrial power needs.
This organization manufacture high-quality diesel generators in various ranges to complete all power needs. Because of it's clean & reliable energy, Supernova Genset's are the most demanding & trusted brand name in the industrial sectors.
With the trusted & reliable name of Supernova, EO Energy deals in several ranges of Supernova rental generators. We are providing rental generator services for the last 11 years and our customer-oriented service makes us a prime distributor & wholesale trader of temporary generator service in Noida & NCR.
Apart from the Supernova standby rental Genset, we also deal with Supernova's new & Second-hand generator for sale. To get more information or want to buy a DG Set, click on the link.
Supernova Genset on rent, we offer
Supernova silent DG Set on rent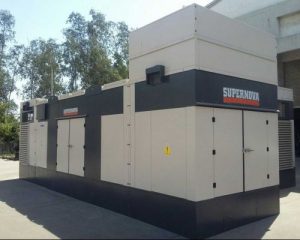 Product Specification
| | |
| --- | --- |
| Genset Rating | 25 kV to 125 kV |
| Noise | Soundproof |
| Fuel | Diesel |
| Type | Semi-automatic, Automatic |
| Output | Single-phase, Three-phase |
| Application | Commercial & Industrial |
| No. of Cylinder | 2 to 6 |
| Rating Speed | 1500 to 1800 RPM |
| Voltage | 220 to 320 V |
| Frequency | 50 Hz |
| Aspiration | TA |
| Insulation | Class H |
| Alternator | Brushless |
| Cooling System | Air & Water-cooled |
| Condition | New |
Supernova diesel generator on rent
Product Specification
| | |
| --- | --- |
| Genset Rating | 250 to 500 kV |
| Fuel | Diesel |
| Noise | Silent |
| Application | Industrial |
| No. of Cylinder | 6 to 12 |
| Cooling Method | Water-cooling |
| Type | Automatic |
| Output | Three-phase |
| Rated speed | 3000 RPM |
| Aspiration | Turbocharged |
| Insulation | Class H |
| Alternator | Stamford |
| Voltage | 480 V |
| Frequency | 50 Hz |
| Condition | New |
Advantages of hiring Supernova rental DG Set
Because of its best in class design & heavy-duty performance, Supernova Genset is a prime choice for small home, business, and industrial external power needs. The high-quality components of this generator provide continuous prime power for all needs. Other advantages of Supernova rental.
Low cost
Compare to purchasing a New or Used Genset, hiring a DG Set is cost-effective & easy to available. Also, the low-cost feature of Suprnova rental power backup is financially very helpful for any startup or low budget organization.
Flexibility
Flexibility in the Supernova rental generator a key feature, which assures the high availability of this DG Set for various applications. It means you can find a perfect size generator for any particular operation.
Reliability & Durability
Highly qualified team of engineers & technician make Supernova Genset more reliable for industrial power needs. Also, the high-quality diesel engine of industrial DG Set provides more durability for any job location. The high-performance diesel engine is suitable for any job.
Try before you buy
Included EO Energy, most of the rental Genset distributor provides a trial of the generator before permanent installation. Trial of Generator helps you to find out the best power Genset according to your external power requirements.
Features of Supernova rental power backup
Why choose EO Energy to hire Supernova Genset
EO Energy is a well-known & highly reliable brand name in the field of generator rental services. Before Installation of rental Genset, We check & test all components of our generator. Also, here you can get all available brands of power backup. Our generator on rent present with numbers of key features, Some of them are,
Zero maintenance cost
Under the rental duration of portable power back up all components related issues will short out by us. It means if you feel any components related issues or any Genset operating issues, we are always there to help you. Our maintenance service is free of cost.
Genset customization option
According to the client's requirement, We do the minor & major customization in our rental generator. We deal with the best available size of Genset.
Rent to own option
We work with temporary generator rent to own options. That means, after completing the rental duration if clients want to buy the temporary power backup for permanent power solution, We provide them at the best affordable price.
Easy solution availability
Our highly qualified team of technicians is available 24*7 to resolve all queries, which is related to our rental power backup. Our prime motto is customer satisfaction and we are always available for any issue resolution.
EO Energy is reputed & famous brand name in temporary power backup services. for the last 11 years, we are the prime distributor of the rental generators in Noida & NCR. Our rental Genset services work in all India locations & We serve our generator in every corner of the country.
Apart from the rental power generator, we deal in New & Second-hand generator for sale. To get more information or want to hire a generator, you can call or contact us. Our sales team will assist you quickly & provide you all the information with price & product specification.