Whenever you use a home generator for the household power needs, it is always necessary to keep the distance from the generator & your house. The idle distance between the DG set & living area is approx 15 feet. The generator distance from the house not only protects from the harmful gas but also, keep away from the irritating sound of DG Set.
Use a long extension cord wire which is present in good condition. Also, you need to put your portable generator in an open & spacious area. so that air of DG Set is exhaust properly.
Uses of Generator
A power generator is widely used in a location where people can face power cuts frequently. Such as if you live in a place where you can face planned or unplanned power outage, then having a small home generator is the best temporary power solution for you. Similarly like home power backup, a heavy-duty industrial generator is used to run industrial applications continuously.
You can buy a single phase or 3 phase DG Set for the permanent power or as temporary power solution in various sectors. But this is very important to keep the distance between the generator and your work location due to its heavy noise and bad gas emission. It will help to protect your family and loved ones.
Size of Generators used in the house
A home generator is available in various sizes of power output. You can choose the best DG Set based on power needs. The best way to get the right size home generator, calculate the power consumption of home utility during the power failure. A small generator present in the range of 3000 to 5000 watts.
Reason for installation DG Set outside the home: DG Set distance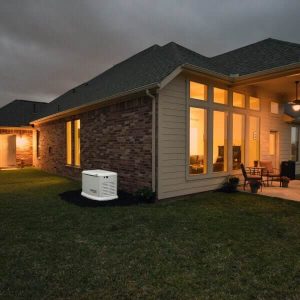 You should always keep a small home generator in the dry area. Sometimes you have to neglect the risk from the electrocution and cool to prevent overheating. Basically, if you use generators in your home then the generator emits the Carbon monoxide Gas. Carbon Monoxide gas is just like a poison. Various kind of generator available in the market that has an engine and the engine produces exhaust.
You never use the generator as indoors or in the partly enclosed places like garages, office, basements and many more. If you use the adequate ventilation area then it is beneficial for you. During the use of the generator, it exhausts the deadly gas. So the distance of a diesel generator from home is very necessary.
If you want to use safer emergencies due to use the generator power then you should always give your generators have some open spaces. You can never refuel your generator while your generator is working. You always apply the safe distance for Generators from the house.
Best Location to manage house generator distance
When you purchase a home generator then it totally depends upon you that what is the best location to keep it. Sometimes you are confused about the location to keep it. Still, you are a decision-maker person and you take a good decision. So that you can save your costly time, money and potential problems.
There are some of the best locations for home generators are given below:
Hook a Generator to the house
If you use a Generator in the house. Generally, it is most important for you to hook a generator to the house. Home DG Set hooking method is very useful for your power backup.
Some of the useful methods of hook a DG Set are listed below.
Above these methods are helpful in the plug process of the Generator.
Installation of the DG Set in the house by managing generator distance
When you install a Generator in the house. Firstly, you can take advice from your installer. He has lots of knowledge about the location. They always suggest you in the right way. You can install a generator at that particular spot on your home where you can use your generator safely and efficiently without endangering the lives of you and your family. You also think about your neighbors also.
It is always remembered that you never install a generator beneath an overhang, in a breezeway, or in an area that collects snowdrifts.
Safety Tips for home generator Distance
Conclusion
Hence these important factors are always helpful in the use of generators. You can save your family due to the generator distance from House. It is never harmful to you to put your Generator safe distance from House. We hope this article will be helpful for you and If you have any questions and suggestions then you can let us know by commenting below.