With several ranges of power Genset, Caterpillar is one of the most popular names in the field of Power Genset. They manufacture a Caterpillar generator for home & industrial power backup. These generators are available in different fuel types such as petrol, diesel, and natural gas. Cat commercial & industrial DG Sets present with standby, prime, or continuous power service.
With all available range of Caterpillar Genset, EO Energy is one of the leading distributors of this DG Sets in Delhi NCR. We deal with a complete range of power Genset from mobile generators to industrial power backup DG sets.
Note: Apart from the new Cat power generator, EO Energy also provides Caterpillar used power backup & Cat Generator on rent. To get more information about these power Genset, click on the following link.
Before the installation of power Genset, our highly-qualified team of technicians checks and test all major components of the generator. Also, we provide an acoustic enclosure for generators, which is helpful to reduce the sound of generators & protect it from bad weather.
Here, we share the information on various models & specifications of Cat Genset. But before getting Caterpillar power Genset product details, first, we take a small overview of the Caterpillar company.
Caterpillar Electric Power Generators
Caterpillar manufactured four types of power generators which are,
Gas Generator Sets
Diesel Generator Sets
Mobile Generator Sets
Olympian Generator Sets
Range of Caterpillar Genset, we offer
Caterpillar diesel generator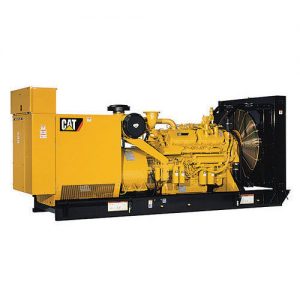 Product Specification
| | |
| --- | --- |
| Genset Rating | 25 kV to 125 kV |
| Fuel | Diesel |
| Application | Commercial, Industrial |
| Noise | Silent |
| Type | Manual, Automatic |
| Output | Single-phase, Three-phase |
| Rated Speed | 1500 to 1800 RPM |
| No. of Cylinder | 2 to 6 |
| Voltage | 230 to 320 V |
| Frequency | 50-60 Hz |
| Cooling Method | Air, Water-cooled |
| Aspiration | TA |
| Insulation | Class H |
| Alternator | Brushless |
| Condition | New |
Caterpillar generator for heavy industrial use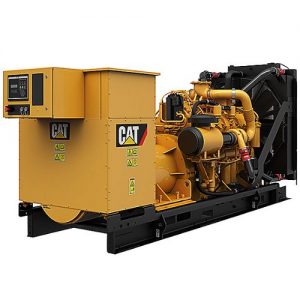 Product Specification
| | |
| --- | --- |
| Genset Rating | 250 kV to 1250 kV |
| Fuel | Gas, Diesel |
| Cooling Method | Water-cooling |
| Type | Automatic |
| Application | Industrial |
| Output | Three-phase |
| Noise | Soundproof |
| Rated Speed | 3000 RPM |
| No. of Cylinder | 8 to 16 |
| Voltage | 480 to 620 V |
| Frequency | 50 Hz |
| Aspiration | Turbo-charged |
| Insulation | Class H |
| Alternator | Stamford |
| Condition | New |
DG60-2(Single Phase) Caterpillar Gas Generator
Caterpillar gas generators sets are available in the range between 20 to 9700 kW. Also, these Genset are easy to select, permit, and install.
These industrial and commercial gas generator sets are proven for reliable operation with a massive range of gas fuel including natural gas and biogas. Caterpillar builds durable, low life-cycle cost power systems that integrate with controls, exhaust systems, fuel train, combined cooling heat, power skids, and switchgear.
Product Specification
Voltage
240 Volts
Frequency
60 Hz
Fuel Type
Natural Gas
Emission/ Fuel Strategy
U.S. EPA Certified for Stationary Emergency Application
Speed
1800 rpm
Natural Gas/LPG Rating
50 ekW / 50 ekW
Engine Specification
Engine Model
5.7L V8, 4-cycle Gas
Fuel System
Natural Gas / LP Vapor
Displacement
350.0 in
Aspiration
Naturally Aspirated
Governor Type
Electronic
Compression Ratio
9.4:1
Bore
4.0 in
Strokes
3.48 in
Caterpillar Genset: features & advantages
Caterpillar is a well-known & reputed brand name in the field of Generator manufacturing & service provider. They manufacture various kinds of Genset for different applications. & providing their services for more than 80 years. These high-quality components Caterpillar generator set is a prime choice for Industrial as well as commercial purposes. Also, the Caterpillar Genset price is affordable & low in cost.
Some of the best feature & advantage of this power backup are,
Quick availability
The best thing about the Cat Genset is the quick availability in every range, class, and application. Best in class manufacturing units of Caterpillar silent generator design & manufacture a huge range of power Genset in several ranges & applications.
Portable in design
Best in design and easy to shift from one location to another is the best feature of Cat portable generator. These DG Sets are mostly used for emergency power backup such as construction sites or life support systems in hospitals.
Eco-friendly
Cat Genset manufacture under the observation of a highly-qualified team of engineers and they specially design these generators to follow CPCB-2 norms to control air & noise pollution.
Safety features
Quality components with the safety feature in the Caterpillar diesel generator make them more reliable for every sector & application.
Low maintenance cost
Caterpillar generator maintenance cost is very low & easy to afford. Financially it will help you very much to save more money on Genset maintenance.
Apart from these, there are numbers of feature which is present with Cat generator.
The Reliable & robust design of this generator makes them able to work in the worst job location or bad weather condition.
Range of caterpillar Gas generators best for uses as commercial purposes. Clean energy & low fuel consumption is the best feature of a Cat Gas Genset.
The block loading capability of the Caterpillar power generator makes them a prime choice for industrial applications.
Complete support after-sale related to parts or any maintenance required for Single-phase or Three-phase DG Set.
Design & manufacture a complete range of small home generator to heavy-duty industrial generator.
Best in class generator engine to provide continuous prime or standby power.
About the manufacturer
In the year 1925, Clarence Leo Best has started this organization in California (United State). In the growing period of Caterpillar, they start the business on a very small scale. But today Cat Genset is working in more than 175 countries worldwide. Also, the Caterpillar generator price is very low & affordable.
Caterpillar has the best distribution and product support system in any industry. The success of this company is more than 300 machines, 1200 attachments, hundred of the power system, and millions of parts, reflects from the customer's faces.
Apart from this, the Cat power generator is one of the most popular products in the power sector. Also, they provide a wide range of Caterpillar diesel generators.
Why choose EO Energy to buy Cat Genset
EO Energy is a trusted partner & wholesale distributor of Caterpillar generator. We provide the best available range of Home Genset to commercial or industrial power backup with the best Caterpillar generator price in India. Also, we provide several ranges of gas & diesel fuel Cat Genset for sale.
Advantages of buying Caterpillar DG Set from us
Available at low & affordable prices for the complete range of standby generators.
Also, you can get a trial period before the permanent installation of the generator.
Before the installation of a generator in a client location, We check & test all the parameters & components of the generator.
We provide flexibility in generator size or power needs.
Work with a customer-oriented dealership with a 100% commitment to customer satisfaction.
EO Energy provides generator services in Noida from the last 11 years & we are a prime distributor of Caterpillar generator in Noida & Delhi NCR. Similarly, like dealing in New generator, Eo energy provides Second-hand generator and generator on rent. To get more information or want to buy a DG Set, you can call or contact us. Our sales team will assist you & provide you more information with generator price & product detail.