Want to hire a rental DG Set for your home or business temporary power needs? Choose Mahindra rental generator.
This portable power backup is the best temporary solution for complete power needs from small homes to heavy industrial equipment. The Mahindra business group is one well known & reputed brand name in India as well as globally. These best in class Mahindra diesel generators designed & manufactured under the observation of a highly qualified team of engineers.
Low operating cost & low noise pollution of Mahindra generator make them a suitable & best energy option for home or business power needs.
With the reliable service of Mahindra DG, Eo Energy provide several ranges of Mahindra Genset on rent. We are a leading distributor & wholesale trader of Genset in Noida & Delhi NCR. Our complete temporary power solution for all application makes us a prime choice for industrial or commercial power needs.
Apart from the temporary Mahindra DG Set, We deal in New & Second-hand generator for sale. To get more information or want to buy a Mahindra diesel generator, click on the link.
Mahindra rental generator, we offer
Mahindra 25 kV to 100 kV Genset on rent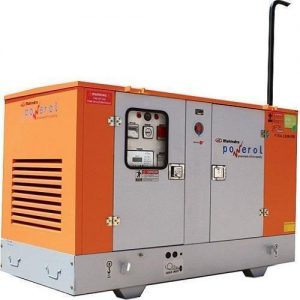 Product Specification
| | |
| --- | --- |
| Genset Rating | 25 to 100 kV |
| Fuel Type | Diesel, Gas |
| Noise | Soundproof |
| Output | Single & Three-phase |
| Type | Semi-automatic, Automatic |
| Cooling | Air & Water-cooled |
| No. of Cylinder | 2 to 6 |
| Voltage | 230 V |
| Frequency | 50-60 Hz |
| Rated Speed | 1500 RPM |
| Aspiration | TA |
| Insulation | Class H |
| Alternator | Brushless |
| Power factor | 0.8 (lagging) |
| Condition | New |
Mahindra industrial DG on rent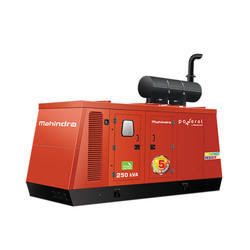 Product Specification
| | |
| --- | --- |
| Genset Rating | 125 to 250 kV |
| Fuel Type | Gas, Diesel |
| Noise | Soundproof |
| Output | Thee-phase |
| Type | Fully-automatic |
| Cooling | Water-cooling |
| No. of Cylinder | 6 to 12 |
| Voltage | 480 V |
| Frequency | 50 Hz |
| Rated Speed | 3000 RPM |
| Aspirtaion | Turbocharged |
| Insulation | Class H |
| Alternator | Stamford |
| Duty | Prime |
| Condition | New |
Advantages of hiring Mahindra Genset
All available range of Mahindra Single-phase & Three-phase generators present with a number of features and advantages. Most of the industrial generator comes with acoustic enclosure, which is helpful to reduce the sound as well as protect the Genset from bad weather. These highly reliable heavy-duty diesel engine generators are able to serve temporary power backup for all applications & in every location.
Advantages of hiring Mahindra DG Set on rent
Portability
Portability is one of the key features of Mahindra DG Set, Because of the portable feature, you can easily shift generators from one location to another after completing the job. Also, the multitasking feature of the portable generator makes them more popular & demanding for various power needs.
Heavy-duty performance
Mahindra silent generators are design & manufacture to provide high-quality backup power in wost condition. This heavy-duty diesel power generators are always the best option for external power needs.
Durability
Apart from the heavy-duty performance, Mahindra standby generators are able to provide their services for a long duration period. That means if there is any planned or unplanned power outage occur, this Genset provides you the continuous prime power without any interruption.
Efficiency
The fuel-efficient diesel engine of Mahindra DG provides a long hour power backup at a very affordable cost. Financially this will help you in the long term.
Features of Mahindra rental DG Set
Why choose EO Energy to rent Mahindra generator
EO Energy deals in a wide range of Mahindra silent generator. Our rental Mahindra generator price is affordable & low in cost. Because of our best in class services & reliability, hiring a diesel generator from us always beneficial for our clients. The best features of rental power backup's are,
Low cost
One of the biggest advantages of renting a Genset from us is that you have to pay a cheaper price as compare to buying a new one. For limited budgets, it plays an important role to save your money.
Affordable maintenance cost
Apart from low cost, one another advantage of renting a Genset is that you don't need to pay money on a technician. Rental units will maintain the Genset during the rental period. If the Genset encounters any issue, service will available from your rental provider.
Flexibility
Flexibility one of the major feature when you renting a Genset from EO Energy. You can rent a Genset of any size with the accurate output and correct rating. You can also select another suitable Genset for the next project.
Sometimes the purchase of that equipment is not the right move because you don't know if your business is going to change. New areas will emerge, even those you would not expect, and present new opportunities that you cannot expect.
Zero installation fees
You can customize a portable Genset according to your requirement for easy connection. The rental service provider provides minimal enjoyment for any site planning and different electrical code needs that come with many lasting installations.
Zero tolerance with quality
The best thing about EO Energy, When you hire a Genset on rent, We provide you brand new Genset from the manufacturing unit. That comes with premium quality and competitive price, low noise and fuel consumption, and silent canopy for options with high efficiency and low-pressure fuel pump.
Last-minute saves
We all are in a situation where there was a last-minute change, problem, deadline change, or accident that potentially gives the whole job a risk. That is part of growing and responding to uncertainly or new demand.
The rental Genset is beneficial, which means you can save your site to the immediate use of power. You will get the exact product you need because you have a team of professionals, who help you to build that assessment and one of the many top tier options for your needs. There is no new financing legwork, insurance or warranty to purchase.
For the last 11 years, we are a prime choice for our industrial clients. Our portable & industrial power Genset's are the most demanding & famous rental power products for industrial or business power needs. Similarly, like rental power services, we deal in New & Second-hand generator for sale. For more inquiries or want to buy a generator, you can call or contact us. our sales team will assist you with complete detail with price & product specification.