Want to get rental generator services at the best price & reliable services? Choose Tata rental generator a complete solution of Temporary power backup.
Tata design & manufacture several ranges of home and industrial diesel generators in various kV options. The best in class service & continuous prime power rating make them the most demanding and trusted external power resource. World-class engine technology & the latest components availability provide the security of long-work performance.
The Tata is one well known & world-famous brand name due to its high-class product manufacturing. Tata Genset is also a prime choice for temporary power backup in the industrial or commercial sector.
With the reliable power services of the Tata generator, EO Energy deals with Tata rental power backup services. We are a prime distributor & wholesale trader of the rental generator in Noida & Delhi NCR. Our rental power generator works in almost every sector such as hospitals, Construction, Banking, IT, and other business sectors.
Apart from the rental Tata DG Set services, We provide New & Second-hand generator for sale. For more inquiry or want to buy a Genset, click on the link.
Tata rental DG Set, we offer
Tata rental Genset 30 kV to 125 kV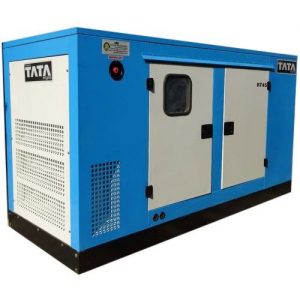 Product Specification
| | |
| --- | --- |
| Genset Rating | 30, 62.5, 125 kV |
| Application | Commercial, Industrial |
| Fuel | Diesel |
| Type | Automatic, Semi-automatic |
| Cooling Method | Water-cooled |
| Frequency | 50-60 Hz |
| Voltage | 280 V |
| Aspiration | TA |
| Insulation | Class H |
| Alternator | Brushless |
| Rated Speed | 1500 RPM |
| Duty | Prime |
| Enclosure | Acoustic |
| Phase | Three-phase |
| Condition | New |
Tata industrial diesel Genset on rent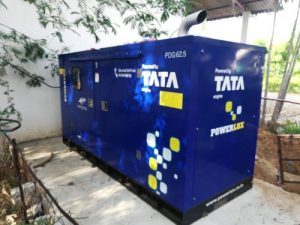 Product Specification
| | |
| --- | --- |
| Genset Rating | 250 to 750 kV |
| Application | Industrial |
| Fuel | Diesel |
| Phase | Three-phase |
| Type | Fully-automatic |
| Rated Speed | 3000 RPM |
| Frequency | 50 Hz |
| Voltage | 480 V |
| Aspirtaion | Turbo-charged |
| Insulation | Class H |
| Alternator | Stamford |
| Cooling Type | Water-cooled |
| Duty | Prime |
| Enclosure Type | IP 23 |
| Condition | New |
Benefits of renting Tata DG
Due to its high-quality output & low fuel consumption, Tata silent generators are the best choice for temporary power service. These low-cost diesel power Gensets are not only best for industrial services but they are also a prime choice for temporary home power backup. The Range of silent diesel generator present with numbers of benefits, some of them are,
Features of Tata rental power backup
About the manufacturer
Tata is well known & reputed brand name in India & the whole world. This organization was started in 1868, Mumbai, Maharashtra by Jamshed Ji Tata. The organization is manufacturing a numbers of products from a small pin to large heavy industrial machinery. A diesel generator is one famous & best in the class product of this brand. They are the manufacturer and suppliers of a wide range of DG sets for different purposes and requirements.
These diesel standby Gensets are able to provide continuous prime power for various applications from home to the large industrial sectors. Specifically, Recognition and reputation of Tata Rental Generator are just not restricted to India only but gained an international platform by successfully purchasing numerous small to large companies from all over the globe.
Afterward, Tata Rental Generator also initiated to deliver Generators services on a rental basis, in order to provide maximum power output with quality work to many firms who do not afford a huge amount of money to buy the generator.
The latest engine technology makes them a more reliable & trusted power backup option for industrial uses. Tata improves productivity, maximizes time, and makes it easier to manage the parts of the silent generator by providing the necessary data.
Reason for renting a Tata generator from us
If you are looking for a power backup to run your start-up or want a Genset for temporary power services to home, business or industrial application, then a Genset on rent is the best way to fulfill your needs. A rental generator provides continuous prime power at low cost & high-reliability.
EO Energy provides rental Genset and this rental power backup comes with numbers of features & advantages, some of them are:
Low cost
The low cost of our rental DG Set is one of the best reasons to hire them for your power needs. Also, there is no hidden charge or supplementary cost with our rental diesel generator.
No maintenance cost
In the rental duration of the portable generator, we provide free of cost maintenance service & also Genset parts support if they damaged or not functioning in a proper way. In Genset rental period we take care of all the services & ensure you provide reliable power services for a long duration.
Zero installation cost
The installation of the industrial generator is also free of cost from our side. we are not charging a single penny for the installation of the generator.
Rent to own option
After completing the rental agreement of DG Set, if clients want to continue with the same electric power backup, we renew the Genset agreement. Also, if they want to buy the same generator, we provide them with the best possible & cheap price.
With the 11 years of experience in the power backup market, We are the prime choice for rental power services in Noida & Delhi NCR. Most of the industry deal with us & hire a temporary generator from EO Energy.
Apart from the rental Genset, we also deal with New & second-hand generator for sale. To get more inquiry or want to buy a home or industrial generator, you can call or contact us. Our sales team will share more information in detail.